I. The Basics
II. Online Ordering
III. There's Something Wrong With My Order
I. The Basics
Where are we located?
RDP Sports is located at
9261 Ravenna Rd Suite B-9
Twinsburg OH, 44087
Directions From Twinsburg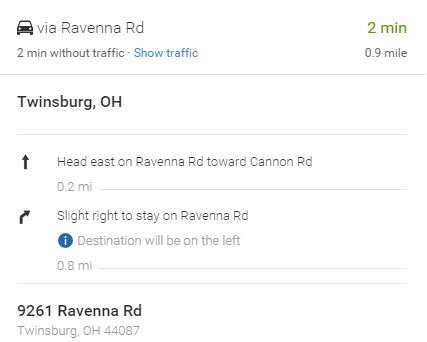 Directions From Aurora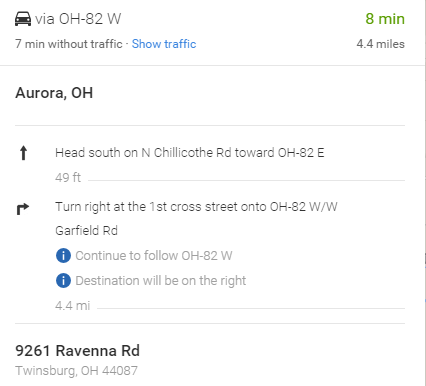 What are our hours of operation?
We are open from 9:00 am-4:00 pm Mondays-Fridays
What services does RDP Sports Plus provide?
RDP Sports Plus is a local screen printing company. We specialize in Team Sports gear but we also can provide screen printing, embroidery, promotional goods, banners, yard signs, decals, magnets.
Can I Bring in My Own Stuff to Screen?
No. We will work with licensed re-sellers
I want to make a custom screen printing order, how does pricing work?
Screen printing is a quantity sensitive business. We typically recommend custom orders to be at least 12 items. It can be all t-shirts, it can be a mix of different types of apparel (tees, hoodies, ect). As long as it is getting the exact same logo.
The amount of colors in your logo/how many different locations will also affect the price.
For more information on custom orders. Please call us, or fill out a free quote form and we are more than happy to guide you through the process to make sure you are getting exactly what you want.
I have my own Artwork, which file format should I send it in?
We prefer artwork to be sent in .PDF or .EPS format. The clearer the vector image the easier it is to work with.
II. Online Ordering Questions
What does the cut off date mean/Where's my stuff? It's been X amount of time since I have placed my order.
Every sale that we feature on the website has a duration period where people can place orders. Some sales are only up for a couple of days, others can be up for weeks. Be sure to take note of your organizations cut off date. All of the orders for each sale are processed and printed at the same time.

What size shirt should I order my child? Are there samples to try on?
We provide sizing charts directly from the distributors product pages. When ordering please be sure you are ordering the correct size. Youth Sizes are marked as "Youth". If the word Youth isn't before the size then it is ADULT sizing. If your child needs youth sizing be sure to select YOUTH.
Youth Sizes Typically Look like this:
| | |
| --- | --- |
| Youth X-Small | 2-4 |
| Youth Small | 6-8 |
| Youth Medium | 10-12 |
| Youth Large | 14-16 |
| Youth X-Large | 18-20 |
When it comes to sizers to try on. It depends on the sale. The only samples we have in store is related to the gym wear. We carry St. Rita, Seton, and Holy Family.
Other sales may have sample sizers with a coach, at the school, or at the beginning of the school year open houses (for the large fall Spiritwear Sales). For additional questions on which orders would have samples contact your coach or the RDP Sales Representative.
I try to check out, but it's not letting me get my order through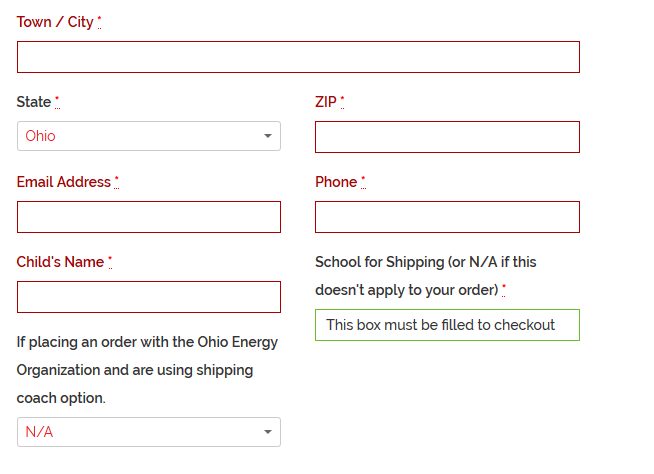 Be sure to check and make sure every check out field is filled out. You may have missed one! First and Last Name, Address, Town/City, State, Zip, Email Address, Phone, Child's Name and School for Shipping are all required fields! Even if the order doesn't apply to you, say you are shipping to an organization/or home instead of your school, simply put N/A. (the same goes for Child's name)
I clicked on free ship to school or organization, filled out my address. Is it being shipped to the school, or my house? Am I being charged the home shipping fee?
As long as you clicked on the ship to school option/organization it will not ship to your house (nor will you be charged). The address you fill in at check out is for billing purposes only.
What does shipping to an organization mean?
For example; Travel leagues don't have a school to ship to. We work with a representative from an organization/team. Once all of the orders are packed we send it to that representative who will then distribute them to you.
If I choose the ship to home option will I get my apparel sooner?
Every order in a group sale is ordered, printed, processed and packed at the same time. Sometimes the ship to school/organization items will be delivered before the orders that are shipped to home. We recommend choosing the ship to home option for gifts/surprises.
I've made a mistake! Is there any way I can change my order?
Please, check and re-check everything in your cart before you place your order. You selected Youth Small instead of a Small? Checked ship to home when you wanted free shipping? Accidents happen! We're all only human. The best time to get your order changed is calling us (330-405-3501) before the sale's cut off date. We're more than happy to help adjust your order to what you need.
I missed the cut off date, is there any way I can still place an order?
Unfortunately, no. The cut off dates are set up by the organization leaders, coaches and our sales representatives for a reason. For the quickest amount of turn around we have to abide by these dates. Adding an order on after the date only slows up the process for those who have ordered on time.
**If an Item is a requirement/part of a uniform**– we do make exceptions for those items that are MANDATORY to participate in your sport. We understand the importance of a uniform, please call us with your team and size that you'll need. You will not be able to order any additional spirit wear at that time, only your required uniform.
III. There's Something Wrong With My Order
Can I return an item if I don't like it or it does not fit?
Unfortunately no, all sales are final once they are custom screen printed/embroidered. Please take note of size charts when making your order. We're here Monday-Friday from 8:00AM-4:00PM if you're still unsure and would like to talk to a sales representative.
I ordered a Small and received a Medium (I received the wrong size)?
If there are any mistakes, due to a fault on RDP's end, on your order please call us or send us an email. When doing so please provide us with as much information as possible. Your name, an order number, what school and sport is this for (or organization). We will do whatever we can to make sure our mistake is corrected.
I asked for customization but my name was spelled wrong/the number on the back of my shirt isn't correct. What can I do?
Errors do occur unfortunately. You can bring the item into the store, located in Twinsburg, and we will take the misspelled name off and correct it for you. We understand if our location is too far for some people, so you can also mail your apparel to us with a note with the correct spelling and we will ship it back to you.
I only received parts of my order and a note saying items are on back order? What does that mean?
We order in our apparel to print from suppliers. When an item is out of stock, we can't get it as promptly as we'd like. We do keep diligent notes to which orders that have back ordered items and we fill them as soon as we can and send them out to you. Back ordered items may take anywhere between one-three weeks (three weeks are more of extreme cases and not the norm).
I received parts of my order and did NOT have a back ordered slip, what do I do?
Please contact us as soon as possible so we can do everything in our power to get you your apparel.
Everyone else has received their order and I have not, where is it?
Check on your shipping selection! If you selected shipping to your home, it won't be with the orders that shipped directly to the school. You should be getting your order within a day.
If you haven't received your order/or a backorder slip please contact us immediately.